PROFILE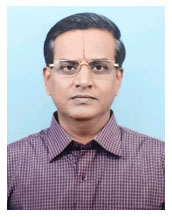 Mr. T. VENKATAKRISHNAN., M.Com., MBA., M.Phil., CAIIB
Mr. T. VENKATAKRISHNAN., M.Com., MBA., M.Phil., CAIIB is a renowned and experienced teacher in Anna Nagar, Chennai who has specialised in teaching all accountancy subjects viz Financial Accounting (Accounting and Advanced Accounting), Corporate Accounting, Cost Accounting, Management Accounting, Financial Management, Strategic Financial Management. He was one among the visiting faculties of the Institute of Cost Accountants of India, leading private coaching Institutes of CA, CMA, CS. He is also one among the visiting faculties of leading Universities, B-Schools, Private colleges. He is teaching accountancy to the students of +1,+2 (CBSE/STATE BOARD/ISC), B.Com.,M.Com., BBA, MBA (All Universities – Regular & Distance Education), CA, CMA, CS (professional course from foundation to final in all branches of accounting),JAIIB, CAIIB (Course conducted by Indian Institute of Banking and Finance). He has a passion in teaching and his mission is to ensure that the students learn the maximum and get benefited. Convenient batches are available.Individual
attention is the great favour that you can find in "TVK ACCOUNTANCY COACHING", which is highly the need of the hour for Professional course students (CA, CMA, CS) especially in marks scoring subjects of various branches of accounting at Intermediate and Final level to leverage the score with other subjects to clear the group. At present, the coaching centre is in Chennai - Anna Nagar and Chennai - Madipakkam.
Join " TVK ACCOUNTANCY COACHING " and experience how learning accountancy is made easy by an experienced Teacher (more than 3 decades) in teaching accountancy.
Vision
TO ATTAIN PINNACLE IN SHARING KNOWLEDGE, TRAINING STUDENTS IN ACCOUNTANCY AND RELATED DOMAINS AND TO OFFER PROFESSIONAL GUIDANCE FOR THEIR SUCCESS
Mission
TO PROVIDE STUDENTS WITH QUALITY ORIENTED PERSONALIZED ATTENTION BY DELIVERING EDUCATIONAL SOLUTIONS AND TO SEE THEY PROSPER IN THEIR CAREER
Focus
TEACHING METHODOLOGY IS DESIGNED IN SUCH A WAY TO REALISE HOW LEARNING ACCOUNTANCY IS MADE SO EASY, WITH AN ULTIMATE GOAL TO ATTAIN THE UNTOLD SECRET OF SUCCESS IN EVERY WALKS OF LIFE.